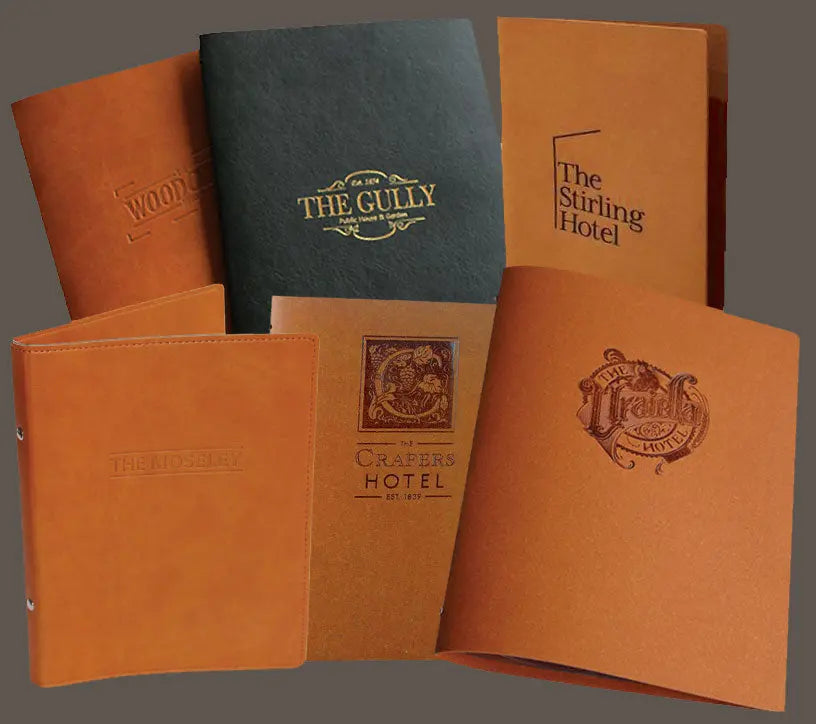 Designing the Perfect Menu Cover: Tips & Trends for 2023
The restaurant menu cover is more than a functional item; it's a first impression, a statement of your brand, and an essential part of the dining experience. In 2023, the trends are shifting towards personalized, sustainable, and tech-savvy designs. If you're a restaurateur looking for modern menu cover designs, this guide offers the latest trends and tips to help you choose a design that complements your brand and attracts customers.
Personalized Designs: Embrace Your Brand Identity
Tip: Choose colours, fonts, and materials that reflect your restaurant's theme and ambiance. Whether it's a rustic, fine-dining, or fast-casual setting, your menu cover should be an extension of your brand identity.
Trend: Custom illustrations, monograms, and unique textures are gaining popularity. A menu cover tailored to your restaurant's persona can create an emotional connection with diners.
Sustainability: Eco-friendly Menu Covers
Tip: Consider using recycled, biodegradable, or reusable materials. Communicate your commitment to sustainability through your menu cover design.
Trend: Eco-conscious designs are more than a trend; they're becoming a standard. Show your customers that you care about the planet by embracing sustainable menu cover options.
Technology Integration: The Future of Menus
Tip: Experiment with QR codes, digital screens, or other tech integrations. Used along side traditional restaurant menu covers they align with your restaurant's style and provide added value to all demographics of your customers.
Trend: Tech-integrated menu covers offer an innovative edge and can enhance the overall dining experience with interactive elements and real-time updates.
Minimalist Aesthetics: Less is More
Tip: Keep it simple and elegant. A minimalist design can convey sophistication and allow your menu items to take centre stage.
Trend: Clean lines, muted colours, and uncluttered designs are in vogue, reflecting a move towards clarity and simplicity.
Multisensory Appeal: Engaging More Than Sight
Tip: Explore materials that offer tactile appeal or incorporate design elements that engage multiple senses. It adds a touch of novelty and can enhance the overall experience.
Trend: Menu covers that offer multisensory engagement are becoming a unique way to captivate diners.
Conclusion: Make the Right Choice for Your Restaurant
Designing the perfect menu cover requires an understanding of your brand's identity, current trends, and what resonates with your target audience. By embracing personalization, sustainability, technology, minimalism, and multisensory appeal, you can create a menu cover that not only stands out but also adds value to your customer's dining experience.
Looking for professional assistance in creating the perfect menu cover for your restaurant? Explore our extensive collection of customizable, trendy, and high-quality menu cover designs. Visit www.fcmsales.com.au or contact our team of design experts who specialize in crafting menu covers that match the unique character of your restaurant.