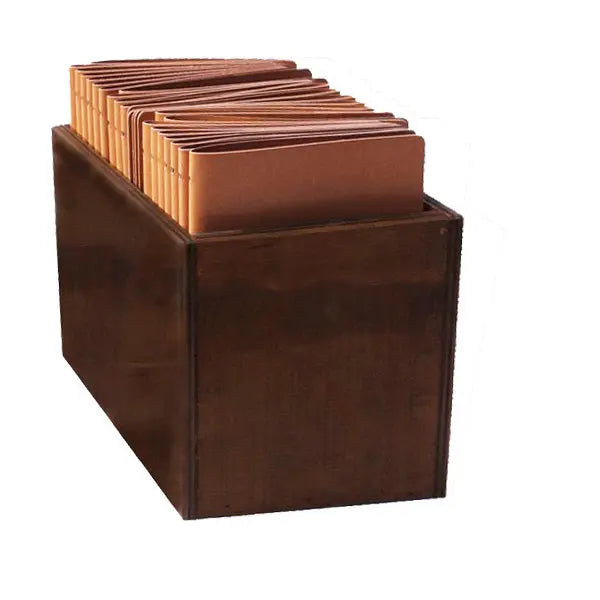 Set of 25 A5 Leather Menus Black or Tan with or without pockets
This product may be delayed in delivery by up to 4 weeks
A set of 25 A5 leather restaurant menu covers with or without pockets. Choice of fitting to take punched or punchless paper. Available in charcoal black or natural tan.
All sets come with a storage box to protect your investment. 
Tan folders come with a walnut box
Charcoal folders come with a black box
Our elastic or borchie pin fittings offer a cheaper alternative to carbon rod folders.  The compact A5 leather menu is suitable for a small restaurant menu, wine list, room directory, visitors book, exclusive catalogue, contract folder, registry or journal
Choose your fitting:
No pockets with borchie studs for

 

punched

 

paper
No pockets with elastic fitting for

 

punchless

 

paper. Which means no punching - simply slide your A4 landscape paper under the elastic.  An economical alternative to a carbon rod folder.
2 or 4 pockets fitted with borchie studs
What you need to know:
A timber box is included in this set for easy storage.
Compact menu folder and choice of fittings means you can add pockets later
No pockets option with elastic fitting or borchie studs fit up to 12 A4 printed landscape sheets  
Pockets make for easy changes and wipe clean with a damp cloth. 
Pockets are made of copy safe pvc for busy venues.
Deep embossing of your logo or restaurant name is also available, contact us for more information.
Additional single menus may be ordered 

Volume discounts apply

 

- the more you buy, the more you save.
Choose from 3 formats:
No Pockets - With elastic fitting or borchie studs fits up to 12 A4 printed landscape sheets 
2 Pockets - to hold 4 A5 menu sheets back to back
4 Pockets - to hold 8 A5 menu sheets back to back
Sheet Size without pockets: 210mmW x 297mmH (A4 landscape)
Sheet Size 2 or 4 pockets: 148mm W x 210 mm H (A5)
Colour: Natural Tan or Charcoal Black
Timber Box size: 275mm L x 205 mm W x 190mm H, 12mm thick
Walnut box with tan folders and black box with Charcoal black folders
Accessories available: Additional borchie pins, pockets, elastics, menu or wine badges