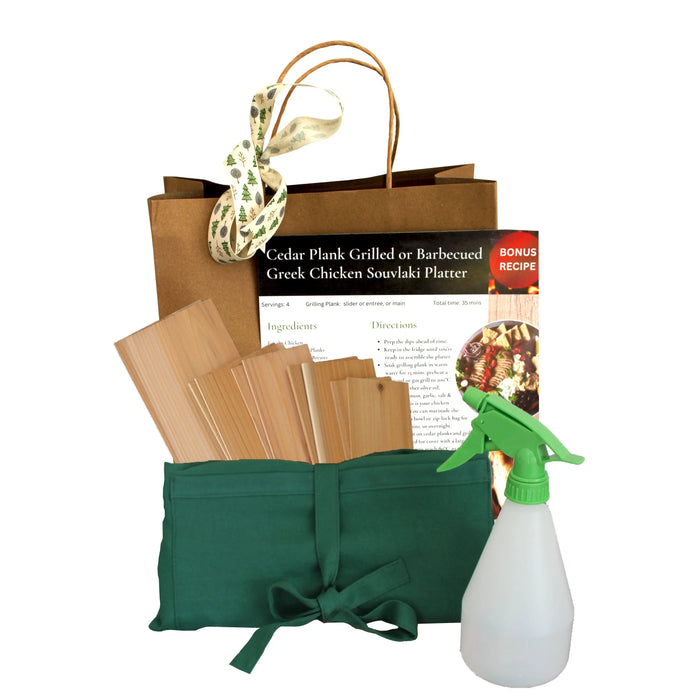 Smokin Grill Cedar Plank BBQ Gift Pack
This product may be delayed in delivery by up to 4 weeks
A unique gift for the King or Queen of the barbecue in your family.  A BBQ gift pack that's sure to please any barbecue enthusiast, including two full sets of different sized Cedar Grilling Planks, suitable for use on an open or closed grill, hibachi grill or conventional oven. 
Grilling planks combine wood and fire (or heat) to add an authentic cedar woodsmoke flavour to your grilled or barbecued dishes. 
Extra planks can be ordered separately in packs of 5 or bulk packs of 20 or more.
What's included in the Pack:
8 Cedar Grilling Planks 2 each of Starter, Slider, Entree and Main

1 Barbecue Apron

1 Water Spray Bottle

How to use Instructions Card

10% Discount voucher for future purchases of Cedar Grilling Planks

4 Favourite Recipe cards with easy step-by-step instructions

4 Bonus Recipe cards exclusive to this deal including duck, venison, chicken and dessert recipes
Flavour: Cedar
Material: Cedar hardwood (food grade)
Quantity: Available in any quantity

Here's how to make Grilled Prawn Tacos with Slaw. We used a Mini Appetiser Grilling Plank for this recipe
8 Tortillas, warmed

Cedar Grilling Plank

Feta cheese, crumbled
For the Prawn Marinade
Juice & Zest of 3 Limes
2 Tbsp Coriander, chopped
2 Garlic cloves, minced
2 Tbsp Oil
Salt to taste
450g prawns, raw, peeled and deveined
For the Cabbage Slaw
1 cup Cabbage, shredded
¼ cup Coriander, leaves only
¼ cup Red Onion, thinly sliced
Juice of 1 Lime
1 Tbsp Oil
Salt to taste
For the Spicy Sauce
¼ cup Mayonnaise 
2 Tbsp Hot Sauce of choice
Juice and Zest of 1 Lime
½ tsp Garlic Powder
Salt to taste
Directions:
Whisk together all ingredients for the prawn marinade in a large bowl or container. Toss the prawns in the marinade and cover in the refrigerator for about 20 minutes while you get the rest of your tacos prepped.
Preheat grill to 220˚C
Soak grilling planks in warm water for about 15 minutes.
Make the cabbage slaw. In a large bowl, combine all slaw ingredients and toss together. Season to taste.
Make the spicy sauce. Whisk together all sauce ingredients in a small bowl. Taste and adjust as necessary.
Place prawns on planks in a single, tight layer. Grill with the lid closed until pink and opaque through the center, about 10 minutes. 
Remove prawns from the grill and build your tacos! Add a few prawns to each tortilla, top with slaw and a drizzle of spicy sauce.
Garnish with sliced avocado, crumbled feta, lime, and more coriander.
*Keep a spray bottle of water handy in case of flare-ups.
Total Time: 35 minutes
Servings: 4